"[…] we've gotten feedback from our community that public content – posts from businesses, brands and media –
is crowding out the personal moments that lead us to connect more with each other. […]
the balance of what's in News Feed has shifted away from the most important thing Facebook can do – help us connect with each other.
Based on this, we're making a major change to how we build Facebook."
One of our big focus areas for 2018 is making sure the time we all spend on Facebook is time well spent.We built…

Gepostet von Mark Zuckerberg am Donnerstag, 11. Januar 2018
On the one hand, this will result in users being happy again.
But on the other, it will worry companies who are currently struggling because of the shutdown of organic reach
and will make them wonder why their paid contributions are rated so poorly by Facebook.
So, what does all this really mean?
For starters, aggressive advertising will soon no longer be possible on Facebook.
The update to the algorithm will crack down on inauthentic content and purchased Likes.
The social platform will go back to real interactions and shares, become more transparent and
perhaps go back a little to the "good old" Facebook –
"You don't want to ruin it with ads because ads aren't cool." (The Social Network, 2010)
Companies who have long seen Facebook as THE advertising machine par excellence should now
think more about how they reach real users. Quality will matter more than quantity.
Minimal and precise targeting will win over mass advertising.
And the new update will also take action against Engagement Baiting.
But behind all these "restrictions" for advertisers, there also are new, cool features that we expect to see in the during 2019:
AUGMENTED REALITY ADS

With AR, companies will be able to quickly build deeper connections with their users and using
active engagement techniques keep them "in the ad" for longer.
The technology behind it isn't new. Instagram, for example, has been using interactive filters for a while now.
What's new, however, is the link with ads within the user's feed and stories which can enormously increase
reach and awareness since users can now use the camera to test products by themselves.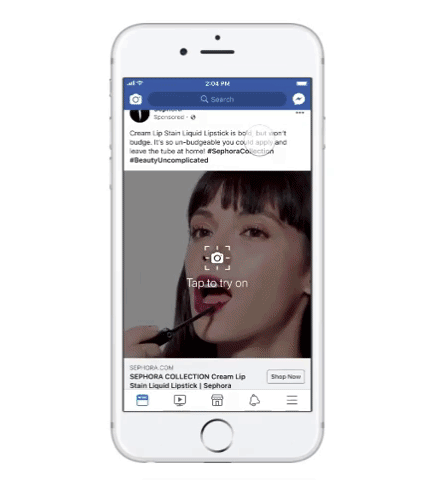 source: facebook.com
FACEBOOK 3D

After 360 degree-Videos Facebook now offers a feature to users to automatically create 3D pictures.
Here, too, their goal is to keep users on the platform longer and make moments as real and tangible as possible.
We presented the 3D photos feature and now we're handing the creativity off to you! We can't wait to see what you come up with. If you need a little help getting started, check out our video on how to post a 3D photo. What are you excited to bring to life using this immersive format?

Gepostet von Facebook 360 am Donnerstag, 11. Oktober 2018
VIDEO CREATION KIT

With the help of the "Video Creation Kit", companies can integrate their pictures into templates to quickly
and easily create video ads. We've probably all heard it a thousand times – but it's really time to jump on
the video bandwagon and use the higher performance it offers.
ALL IN ALL
Even if many companies and brands have to take a deep breath because of the changes to Facebook's algorithm,
this isn't a death sentence. On the whole, it's better not to try to outsmart the algorithm but to give Facebook what it wants.
The 2018/19 update to the algorithm will ultimately not be the last one and clearly all digital providers and services
will need to constantly reinvent themselves to keep up.
For users, as well as for companies, this will open up new possibilities and technologies that should be used.